There seem to be so many ways to connect with fans and build our author platform.
In my book Your First 1000 Copies, I outline a proven three-part framework that any author can use to build their platform, connect with readers, and sell more books:
Permission – Communicate with your fans in a way that gets their attention and drives them to action.
Content – Offer free content and spread it widely and freely.
Outreach – Move people from not knowing you exist to knowing you exist.
If you can accomplish these three interconnected levels, you will build a thriving author platform full of fans excited to buy your next book.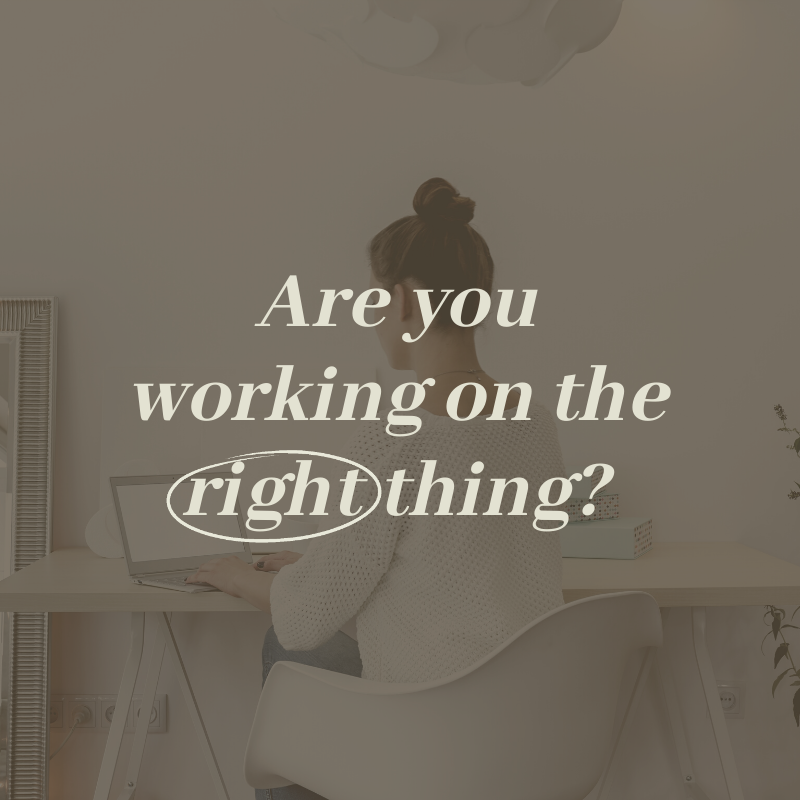 But so many things can distract us and get in our way while we're on the road to building our platform. While some of those things are important, most aren't.
So often, we tell ourselves a task is important, just so we can dodge the real, hard work of what we really need to be doing.
Doing the Right Thing
A while back, an author wrote to me and asked if he should overhaul his website with a new WordPress theme he had found.
I took a look at the website. While it wasn't the most gorgeous site I've ever seen, it was getting the job done. It had an email signup, his books were displayed prominently, he had an author bio and was offering free content.
My question to him: "How much traffic are you getting to your website?"
Another author wrote to ask if she should start buying Facebook ads to get more people to "Like" her Facebook author page.
First, I had her read my post on the myths of social media.
Then I asked, "How many authors have you reached out to in order to create mutually supportive relationships?"
Then there was the author who was agonizing over what he should give away to new website visitors, so they'd sign up for his email list. He kept changing his free ebook—rewriting the hook, uploading new versions, etc.
When he asked me what to do, I asked, "How many podcasts have you pitched, to have you on as a guest?"
There are always tons of things you can spend your time on, but almost all of them – 99.9 percent – are a complete waste of your time.
Creating Long-Term Connections
Another question I received recently:
"It seems like nothing will work without Outreach. So why do you talk so much about Permission and Content first, when none of it matters if new people aren't finding you?"
Here's why . . .
Think of your website as a bucket.
For most authors, the bottom of that bucket is full of holes.
People come to your website, check out your books or read a blog post, then immediately leave.
They flow into your bucket all right — but then they drop right out of the bottom.
That's because you've created no connection with them, no way to stay in contact long-term.
Once you figure out how to plug those holes in your bucket, things will start changing for you.
If you make the #1 goal of your website getting people on your email list (Permission) by prominently displaying email signups that include a great offer, you'll start getting those visitors to sign up.
That gives you long-term access to communicate with them.
Then once your website is set up to get people on your email list, you start putting up compelling Content that gives people something to interact with.
A reason to come to the site in the first place.
You'll start seeing even more of your site visitors signing up for your email list.
Only then is Outreach useful.
If you do Outreach before plugging the holes of Permission and Content, you're just pouring more people into a bucket with holes. They'll drop out of the bottom, and you'll never see them again!
However, once you have plugged the holes in your website . . . leave it alone!
And focus on Outreach.
Focus on finding groups of people that don't know you exist and introduce yourself to them.
Solving Obscurity With Outreach
At this point in your platform-building, your #1 problem is Obscurity.
If nobody knows you exist, it's going to be really hard to sell books.
You could have the most gorgeous, engaging website that gets 100 percent of the people who visit to gladly give you both permission to stay in contact with them AND buy a copy of every book you've ever written.
But if nobody knows you exist, it will all be for naught.
Here's why . . .
Once you have your Permission and Content set up and working – even if it's not the absolute best it could be – it's time to move on to Outreach.
Outreach is the scary part. It's the most ambiguous part.
It's the part that requires us to reach out and face rejection.
So when it comes time to do it, we often shrink back and distract ourselves with things that aren't important — like fiddling with our website, fixing the header on our Facebook page, or reading about successful social media marketing.
Here's the deal — the plan that works, and that will save you months of wasted effort:
Get an email list set up with an email service provider, and display your email signup prominently on your website.
Regularly put out compelling free content on your website. Then, once that's done:
Spend the rest of your time on Outreach and solving your obscurity problem.
Then be honest with yourself, and only do the kinds of Outreach that may actually move the needle.
Doing What Matters
I've been working with a friend of mine as he's been getting his platform off the ground. We're talking starting from zero.
The first part was pretty straightforward.
He wrote out a series of helpful emails that people get when they sign up for his email list.
Then he used a WordPress theme to get his website up, put an easy-to-spot email signup on it, and started blogging regularly.
While this work wasn't always easy, it was crystal clear in terms of what needed to be done.
Digging a 50-foot ditch isn't easy, but how you go about it is pretty straightforward.
And then he hit Outreach. The hard, ambiguous part.
He struggled, pressed into the fear, tried several different things.
He despaired a few times. He wanted to quit.
His first 45 subscribers came in slowly.
Then last week, one of the dozen or so things he'd been trying finally started to work.
Within a couple of days, he'd popped more than 100 new subscribers. Now he's following up on that by offering more free content, to drive that number even higher.
I've seen this pattern before. He'll be at 500 subscribers within a couple of months.
It takes work. It takes trying and failing. But the reward is worth it.
The end result? Direct connection to a few hundred and then thousands of fans, who aren't just visiting your website once or twice.
They're excited to buy your next book.
[fbcomments count="on" countmsg="comments"]